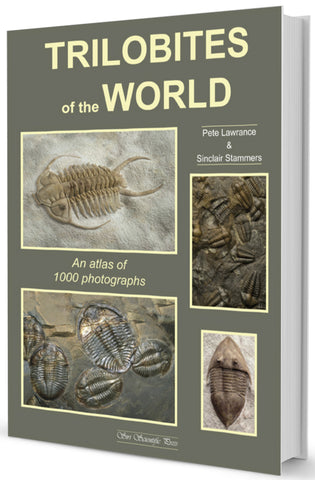 Trilobites of the World: An Atlas of 1000 Photographs
by Pete Lawrance and Sinclair Stammers

Siri Scientific Press (2014) 978-0-9574530-3-6 RRP £45.00
416 pp, 240 x 165 mm, soft cover, 1001 colour photographs
IN STOCK - Ships Within 24 Hours

Reviews
American Museum of Natural History Trilobite Website (2014, abridged). A pleasing and easily digestible display of information and photos that has been carefully assembled by the authors, this is a well-designed volume that deftly covers the nearly 300 million year reign of the world's favorite fossilized arthropod from the four corners of the globe. Highlights include beautiful and unusual trilobites from Great Britain as well as recently uncovered material from such paleontological hotbeds as Morocco and Russia. Also featured are eye-catching examples of unusual species from Bolivia, Germany and China. The bottom line is that amid the recent flurry of trilo-books, this one will serve as a solid addition to anyone's collection due to both its comprehensive nature and easy-to-handle size. Trilobites of the World earns its rightful place among important books for the true trilobite enthusiast.
Priscum, Summer 2015 (Newsletter of the Paleontological Society). ...they have presented a stunning array of trilobite photos in their new volume Trilobites of the World. The book contains 1000 colour photos of almost 700 species—and they are amazing, in many ways! ... many other interesting facts are included in this wonderful atlas. As the authors say: this book is for trilobite enthusiasts. And quite so! It does not waste time on an introduction to trilobites, other than the most basic one. However, it does yield a good portion of information as to where to go look for trilobites. And that exactly might be the focal point of the book; acting as an identification key, in an entertaining and non-scientific manner. The atlas covers trilobites from every corner of the world as well as the whole timespan of the trilobite reign through a very thorough introduction to the major trilobite deposits, a comprehensive reference list, and finally an appendix, which highlights the trilobites included in the book. If you should ever want to indulge in trilobite names and illustrations, this is definitely one of the better ways to go about business. Enjoy!
Deposits Magazine (2018, issue 56, page 40, snippets): The guide contains a valuable introduction to trilobite history, morphology and their likely behaviour, and short discussions of the major trilobite deposits worldwide. There is then a country-by-country display of trilobite photographs from oldest to youngest. And it is in these pages that you become aware of the true wonder of these intriguing extinct animals. …. Pete Lawrence has about 50 years of experience collecting and identifying trilobites, and Sinclair Stammers is a professional scientific photographer, with a lifelong passion for prehistoric life. Together, they have created a beautifully illustrated guide showing the exquisiteness and variety of this intriguing group of extinct animals. There is no doubt that the guide is suitable for anybody interested in trilobites, including academics and fossil collectors, because the variety and beauty of the trilobites illustrated are astonishing.
From the back cover
Trilobites are extinct arthropods that dominated the early oceans of the world. They occupied every available ecological niche and were highly successful organisms that evolved into a bewildering array of different forms. They died out at the end of the Permian, some 250 million years ago. Fossil trilobite remains are found on every continent. This book shows some of the best preserved, complete examples from many different countries and includes specimens collected from many 'classic' old localities. This book will appeal to anybody interested in trilobites, from academics to fossil enthusiasts and collectors, who will all enjoy the sheer beauty and variety of the trilobites illustrated. Trilobites of the World features almost 700 species, illustrated by 1000 colour photographs.
---
We Also Recommend
---