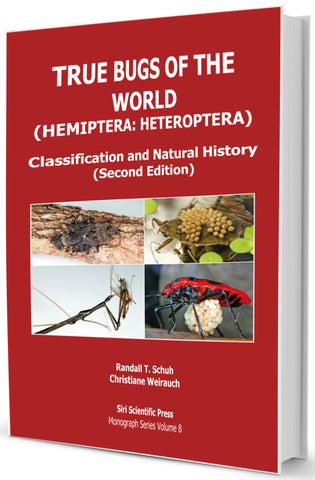 True Bugs of the World (Hemiptera: Heteroptera): Classification and Natural History (Second Edition)
WINNER of the prestigious Royal Entomological Society Westwood Medal, 2021
by Randall T. Schuh & Christiane Weirauch
Siri Scientific Press (1 Jan 2020) 978-0-9957496-9-6 (Monograph Series Volume 8) RRP £129.99

800 pp, 240 x 165 mm, hard cover, 182 black & white photographs (SEMs) & illustrations, 32 colour plates
IN STOCK - Ships Within 24 Hours. Please supply your phone number when ordering this title as we may need it for shipping purposes. Also, please do not use a PO Box address. Failure to follow these requirements will result in a delay to your order being processed. Thanks for your understanding!

REVIEWS
in press (edited snippets): Despite the authors clearly positioning their book as the second edition of the 1995 manual, this upgrade of the former edition is so massive that it would be fair to consider the new edition as a brand-new treatise. There is no doubt that this fundamental volume will appeal to anybody interested in Heteroptera, both experts and beginners alike, as a most updated reference book or a tool to family-group identification. It is a must have for libraries of any natural history museums or universities. The high quality of the book has already been officially recognised: it was awarded by the highly prestigious Westwood Medal for 2021 issued by the Royal Entomological Society for excellence in taxonomy. I am confident that every reader of this book will immediately appreciate its clear style and deep, well thought out content. Finally, I wish to congratulate the author and publisher for such fine work, which could serve as a model for specialists wishing to write up similar treatises on other groups of organisms.
FROM THE BACK COVER
The First Edition of "True Bugs of the World" presented a comprehensive review of heteropteran biology, morphology, and classification down to the subfamily level.  In the intervening 24 years our knowledge of the Heteroptera has vastly increased. Almost 5000 new bug species have been described during this period, a 12–15% increase.  Two new families, Curaliidae and Meschiidae, have been described, and the categorical rank of multiple family-group taxa has been revised. The use of cladistic methods through the application of more-user-friendly computer programs and of DNA-sequence data in phylogenetic analysis are now commonplace with a concomitant increase in our understanding of true-bug relationships.  The study of fossil Heteroptera has blossomed in a way not seen since the late 19th and early 20th centuries.  Finally, a large body of literature now documents various aspects of the natural history of true bugs, ranging from chemical ecology to microbiomes, and establishing certain Heteroptera as model organisms for phenomena including aposematism, sexual conflict, and paternal care.  All of these factors argued for an updated volume summarizing our general knowledge of the true bugs.
    In preparing this Second Edition we have maintained an organization approach similar to that of the First Edition.  The introductory chapters deal with issues from a historical and functional perspective, the major alteration of format involving the coalescence into a single chapter of all material dealing with heteropteran natural history.  Following a key to infraorders, we present for the first time an extensive review of fossil Heteroptera. The systematics chapters, which comprise the remainder and preponderance of the work, focus almost exclusively on living Heteroptera.  Taxa are grouped by infraorder, superfamily, family, subfamily, and in some cases tribe.
    Following from the First Edition, we present diagnoses and information on the history of classification for suprafamilial taxa, all families, and for many subfamilies and tribes, as well as sections on Specialized Morphology, Natural History, and Distribution and Faunistics.  We continue to present information on numbers of described taxa.  The volume includes figures for general morphology and for details of structure in all family-group taxa, as well as 32 color plates of habitus images and 2 of living bugs; 3020 papers are cited, a 230% increase over the First Edition.  The majority of the newly cited papers have been published since 1993 when the literature search for the First Edition stopped. This seminal volume will appeal to anyone interested in Heteroptera, including for use as a general reference, specialized textbook, aid to family-group identification, and a gateway to the ever-expanding literature on the group.


CONTENTS
Click here (pdf)

---
We Also Recommend
---