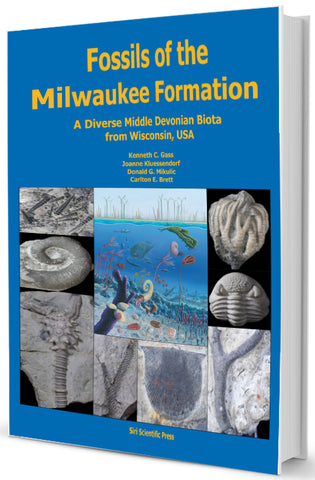 Fossils of the Milwaukee Formation: A Diverse Middle Devonian Biota from Wisconsin, USA
by Kenneth C. Gass, Joanne Kluessendorf, Donald G. Mikulic & Carlton E. Brett

Siri Scientific Press (2019, 16 May) 978-0-9957496-7-2 RRP £24.99
224 pp, 240 x 165 mm, soft cover, 350+ colour photographs & illustrations
IN STOCK - Ships Within 24 Hours
What people are saying
Newsletter of the Paleontological Society (Priscum: vol 26: 25, 2001): No book, to my knowledge, explores a complete fauna from North America in this detail. The story of the Milwaukee Formation told in this new book is not likely to change with new additions owing to the lack of collectable exposures in the area. Thus, Gass et al.'s book is likely to be the final word on the Milwaukee Formation for the conceivable future. The book will be useful to collectors and professional paleontologists alike. I would love to see other authors take this approach and produce similar volumes on other well-known, and not-so-well-known formations around the world.
A richly illustrated glimpse of the wonderfully diverse life of the Devonian period, based on a century of collecting, mostly by devoted amateurs. The authors have brought together information from many sources to present a striking snapshot of Milwaukee as it was nearly 400 million years ago. Richard Fortey, paleontologist, author

This book will make a wonderful identification tool for amateur collectors and is a valuable review of the fossils of the Milwaukee Formation. The images of the trilobites and placoderm dermal plates and fin spines alone will impress anyone who has ever collected in the Milwaukee Formation. Paul Mayer, The Field Museum

Next up in Siri Scientific Press's series of authoritative monographs in paleontology is Fossils of the Milwaukee Formation, a detailed and lavishly illustrated exploration of the fossil fauna of little known Middle Devonian deposits found only in a small area in southeast Wisconsin. Kenneth Gass, author of Solving the Mystery of the First Animals on Land: The Fossils of Blackberry Hill (also by Siri Scientific Press), a study of the Cambrian trace fossils of central Wisconsin, is joined by three prolific writers and scientists in
this effort to document accurately and completely a beautiful and intriguing Devonian biota. Wendell Ricketts, Fossil News

From the back cover
Easily overlooked due to its extremely limited exposure and geographic extent, the Milwaukee Formation seldom comes up in discussions of Devonian paleontology or geology. In spite of this, it contains one of the most rich and diverse Devonian biotas in North America. Fossils of the Milwaukee Formation: A Diverse Middle Devonian Biota from Wisconsin, USA re-examines this virtually forgotten occurrence, compiling all known species, as well as major taxa not previously recorded from this formation, and presents several significant new interpretations. The book covers roughly 250 species from four kingdoms and includes nearly 600 photographs of foraminifers, echinoderms, graptolites, conodonts, a wide range of fishes, a multitude of shelly and encrusting animals, trace fossils, and even terrestrial organisms that washed into the sea. Fossils previously thought to be of forms of brown algae are shown to be, in one case, bark from trees of some of Earth's first forests, and in another case, a type of terrestrial fungus that may have reached the height of a two-story building.

The authors also use the Milwaukee Formation's fossils to help illustrate many geological processes and topics in biological science, pointing out that some of those fossils even helped support the theory of punctuated equilibria. The book includes sections on stratigraphy, fossil collecting in the Milwaukee Formation, preparation methods, major collections, and a detailed section on Milwaukee's cement industry, which was crucial in accumulating the majority of the Milwaukee Formation's fossils. The book particularly stresses the need for modern analysis of these fossils for their value in what else it may teach us about this biota and what that may add to the body of geologic knowledge. It thus serves as a call to action for researchers by pointing out this need and stating where the major collections are located. A comprehensive glossary is provided for technical terms that are not defined in the text.
Fossils of the Milwaukee Formation will be of interest to fossil enthusiasts, students, professional paleontologists, biologists, academics, as well as historians.
Contents
Introduction
Chapter 1 ─ Cementing its Place in History
Chapter 2 ─ Stratigraphy
Chapter 3 ─ Life in Devonian Milwaukee
Chapter 4 ─ Taphonomy
Chapter 5 ─ Foraminifers, Ostracods, and Other Microorganisms
Chapter 6 ─ Conulariids
Chapter 7 ─ Rugose Corals
Chapter 8 ─ Tabulate Corals
Chapter 9 ─ Tentaculitoids
Chapter 10 ─ Bryozoans
Chapter 11 ─ Hederelloids
Chapter 12 ─ Brachiopods
Chapter 13 ─ Hyoliths
Chapter 14 ─ Mollusks
Chapter 15 ─ Annelid Worms
Chapter 16 ─ Arthropods
Chapter 17 ─ Crinoids, Blastoids, and Edrioasteroids
Chapter 18 ─ Dendroid Graptolites
Chapter 19 ─ Conodonts
Chapter 20 ─ Fishes
Chapter 21 ─ Fungi
Chapter 22 ─ Land Plants
Chapter 23 ─ Trace Fossils
Chapter 24 ─ Unidentified Body Fossils
Chapter 25 ─ Fossil Collecting in the Milwaukee Formation
Chapter 26 ─ Preparation Methods
Chapter 27 ─ Major Collections
Chapter 28 ─ The Cement that Made Milwaukee Famous
Bibliography
Glossary
Index to the Species, Subspecies, Unnamed Species, and Ichnospecies Cited in the Text
---
We Also Recommend
---