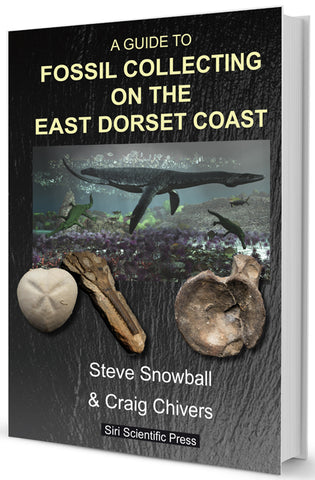 A Guide to Fossil Collecting on the East Dorset Coast
by Steve Snowball and Craig Chivers
With prehistoric life and scene reconstructions by Andreas Kurpisz
Siri Scientific Press (2021) 978-1-8381528-2-6 RRP £19.99

192 pp, 240 x 165 mm, soft cover, 200+ colour photographs & illustrations


IN STOCK – Ships within 24 hours
Reviews
Geology Book Reviews (online): The information contained is clearly fully up-to-date and contains detailed descriptions of fossil-bearing sites, their geology and the fossils to be found there. Therefore, it is ideal for amateur fossil collectors, as well as the more experienced collector, to read both before and during their visit to this lovely stretch of coast. In this respect and as always, the guide is illustrated in full colour, with beautiful photographs of the East Dorset landscape and of the fossils, together with reconstructions of life in Jurassic and Cretaceous times by palaeo-artist, Andreas Kurpisz. The full review can be read here: https://www.geologybook.com/2021/06/a-guide-to-fossil-collecting-on-the-east-dorset-coast/?doing_wp_cron=1622539757.1227359771728515625000

From the back cover
This is the third in a series of highly acclaimed and informative guides to the safe and responsible collection of fossils along the Dorset coast. The focus in this book is on the eastern section, from the Chalk cliffs at Bat's Head, across some of Dorset's more remote coastal locations and to the final stage of the journey at Hengistbury Head.
The information contained is fully up-to-date, with detailed descriptions of fossil-bearing sites, the geology and the fossils to be found there. Each page is sumptuously illustrated in full colour, with stunning photographs of the beautiful East Dorset landscape and of the fossils.
This guide will prove invaluable to those wishing to visit the Dorset coast and to engage in an increasingly popular hobby. It will appeal to the amateur, as well as the more experienced collector. The book is further complimented by superb reconstructions of life in Jurassic and Cretaceous times by palaeo-artist, Andreas Kurpisz, who has continued his collaboration with the authors.
Steve Snowball and Craig Chivers are the authors of both 'A Guide to Fossil Collecting on the West Dorset Coast' and 'A Guide to Fossil Collecting on the South Dorset Coast', also published by Siri Scientific Press. Their considerable experience in the collection and preservation of fossils found in the area in which they live, are reflected within the pages of these books.
Contents
ACKNOWLEDGEMENTS
FOREWORD BY THE AUTHORS
INTRODUCING THE JURASSIC COAST:
A World Heritage Site
DORSET FOSSIL COLLECTING CODE OF CONDUCT
THE EAST DORSET SUCCESSION:
The geology & landscape of East Dorset
MAKING SENSE OF THE FOSSIL RECORD
FOSSIL COLLECTING EXCURSIONS IN EAST DORSET:
 i. EXCURSIONS NEAR DURDLE DOOR: Bat's Head to St. Oswald's Bay, Dungy Head & Lulworth Cove
 ii. EXCURSIONS NEAR WORBARROW BAY: Mupe Bay, Worbarrow Bay, Brandy Bay & Gad Cliff
iii. EXCURSIONS NEAR KIMMERIDGE BAY: Broad Bench towards Chapman's Pool
iv. EXCURSIONS NEAR ST. ALDHELM'S HEAD: St. Aldhelm's Head & the Purbeck Quarries
v. EXCURSIONS NEAR DURLSTON BAY: Durlston Bay, Peveril Point & Swanage
vi. EXCURSIONS NEAR HENGISTBURY HEAD: Studland Bay & Hengistbury Head
ABOUT THE AUTHORS
BIBLIOGRAPHY
INDEX OF FOSSIL PHOTOGRAPHS
---
We Also Recommend
---