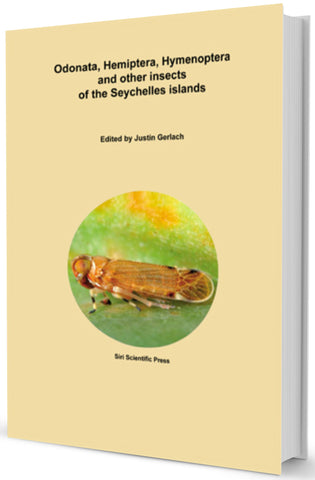 Odonata, Hemiptera, Hymenoptera and other insects of the Seychelles islands
by Justin Gerlach (editor)

Siri Scientific Press (2013) 978-0-9567795-1-9 RRP £66.00
400 pp, 240 x 160 mm, soft back, 325 figures, 20 black and white photographs, 4 colour plates
IN STOCK - Ships Within 24 Hours

Reviews
Antenna (2013): Overall, this volume has made a very good impression on me, and I wish to congratulate the authors, editor and publisher for such fine work. The book constitutes a reliable source of taxonomic information on these 14 insect orders of the Seychelles and indeed will be a very useful reference volume in the library of any natural history museum or university.
From the back cover
The Seychelles islands are biogeographically interesting, with ancient affinities to Africa and Asia, recent colonizing species from the Indo-Pacific and modern introductions. Until recently, relatively little was known about the biodiversity of the islands. This has changed through the publication of a series of monographs on the Seychelles fauna, presenting the latest information on all the terrestrial and freshwater animals of the islands. In this current volume on the Odonata, Hemiptera, Hymenoptera and other insects of the Seychelles islands, 15 expert scientists from nine different countries have provided contributions that cover all 954 species of these insect orders and other orders not covered in previous volumes (e.g. Protura, Collembola, Diplura, Microcoryphia, Zygentoma, Thysanoptera, Psocodea, Neuroptera, Siphonaptera and Trichoptera) recorded from the islands. The volume includes taxonomic keys, diagnostic illustrations and descriptions for many species, in addition to distribution records and assessments of species conservation status as defined by the International Union for the Conservation of Nature (IUCN).
---
We Also Recommend
---